Monthly Meeting - October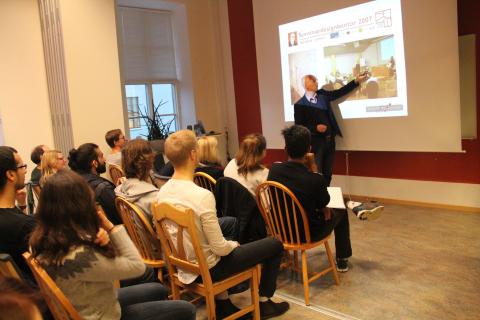 During October's Monthly Meeting, we had a presentation by Per Östling from FirstToKnow.
He gave a very inspiring presentation about his work. (www.firsttoknow.se)
His perspective towards the value of students and their work was refreshing.
As a result conversations with him continued also during the break.
Finally, Siddharth presented the ongoing work in the different project groups:
Re:Cycle: This group will start to plan the next Re:Cycle event (which will be in April) in November.
Re:Cycle also needs a new project leader, interested? Then please contact Anna Gustafsson (gson.anna@gmail.com)
Food: The last Food-rescue-party was during the Framtidsveckan; the next might be together with the climate actions group
Home: This group is working on a range of sub-projects such as workshops for the student union committees to increase sustainability within the union
TRE-The Reflecting Engineer: There will be 2 lectures this autumn - check our calendar for more information on time, place and content
TRE also needs a new project leader for next year, interested? Then please contact Juana Camacho Otero (jcamachoo@gmail.com)
Innovation for Integration: This is our newly formed group as a result of the peace-seeking people coming to Sweden.
Climate Action: In December, Paris will host the United Nations climate COP21 - accordingly the groups aim is to increase awareness of the climate change issue.
The 29th November CSS will take part in the Climate March in Göteborg (Klimat samiling Göteborg) where CSS will take part.
Last but not least:
As in the blog post before:
CSS is looking for new board members for 2016!
>>>Apply here<<<
 
See you at our annual meeting in November 19th
Your CSS-Board