October Monthly meeting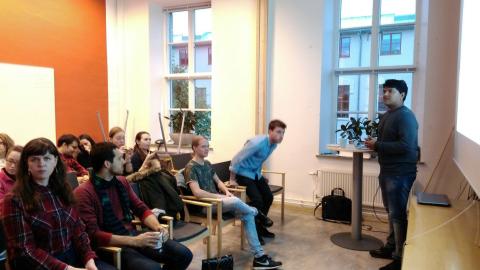 Hey everyone! It was very nice to see so many of you on Wednesday at the monthly meeting. But here is a quick update for all of you guys who couldn't join us! 
After our new chair Omkar, introduced briefly what CSS is to our new members, BlackDot had a very interesting presentation about their new project called "Let's collaborate!" which will be held in 11-13 of November. You could find more information about the event on their website http://bdimpact.com/. Next, the HSB Living Lab presented us their very cool upcoming projects and particularly the Swap Cube, a room in their premises where you can actually leave the things you no longer need and get some new ones from someone else! Then, we received some updates from our project coordinator Spyros, both on the projects that have just been completed (like ReCycle), and the upcoming ones (The Reflecting Engineer, Food Rescue, Innovation for Integration), plus some ideas for future projects. Of course, afterwards there was our favourite FIKA break and finally we watched the rest of the "Tomorrow" documentary.
With love, 
the CSS board.